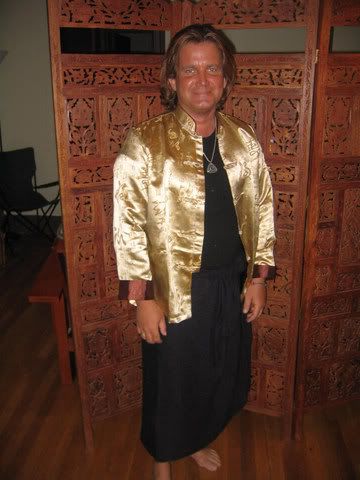 Those of us who are a part of the growing number of spiritually inspired artists, musicians and dancers in The Gossamer Court will be well represented at Starwood this year.

We extend an invitation to all artists at the festvial to walk with us for awhile, so we might learn from one another and draw new inspiration.

For More Information On The Festival; http://www.rosencomet.com . The festival runs from July 19th - 24th

Most of us are coming as friends, who shall pay like everyone else, because we want to spontaneously make magick through our respective art and not be confined to a schedule.

Some of the best events are ones born of spontaneity.

We shall all be participating in the Faerie Woods Project, which everyone is very excited about. We encourage everyone who is a part of The Faerie Woods Community to do so as well.

Many within the court have not experienced Starwood before. In my capacity as a dream maker, this is reward enough.

There is a lot of talent in our community and I am very excited about those who have already told me they will be bringing work to share with everyone.

Brain James, the Fire Dancer and Master Spinner, has agreed to be one of the teachers for an unofficial workshop on spinning. I am still collecting the names of those interested in this, as teachers and students.

YOU MAY NOT IGNITE ANYTHING DURING THIS ACTIVITY!

No fire or combustibles for this workshop. Please! It can't be tolerated.

It does pain me to see this rule in place because mine is the discipline of the fire, but we have put safety as the first order of the day.

I may teach veil to some during this unofficial event as well. It depends on the shoulder. Some people have asked me about the featherweight veil I have used in past festivals.

I am having some made for this Starwood and will make the pattern and specs available to anyone interested before the festival.

We are going to ask some of our friends who are wonderful veil dancers in their own right, to participate. If there are any fan dancers out there, please make your selves known. It is a beautiful art form

We will have musicians and drummers for this.

I have spoken with and will be speaking to more of my people, who have different artistic disciplines to share.

If you are interested in something in particular, give me a shot. We may have someone to help you within our group or know others from somewhere else.

Do not be concerned about disturbing me. I have ways of hiding when I have to. If you see me, I can usually talk. You might have to walk with me but I will give you time.

The Faery King has some surprises this year, with regard to talent. We will probably all be camped near Incus and the Fire Worshippers.

LETS MAKE IT HAPPEN!

LETS MAKE MAGICK TOGETHER!

Many Blessings,
Yust, Fae Rex



The Faery King does not represent or receive compensation from A.C.E.

He just loves Mother Starwood will all his heart!