Dear Friends,

It is so wonderful that people like you are, in a most universal way, a part of the consciousness of The Gossamer Court.

Perhaps you can make this experience. It would be a blessing to have you participate in this evening.

Namaste, His Serene Highness, Yust II Oberon, Fae Rex, Elemental Majesty of The Gossamer Court and Monarch of The Fae Realm.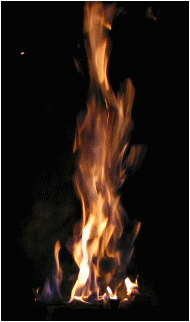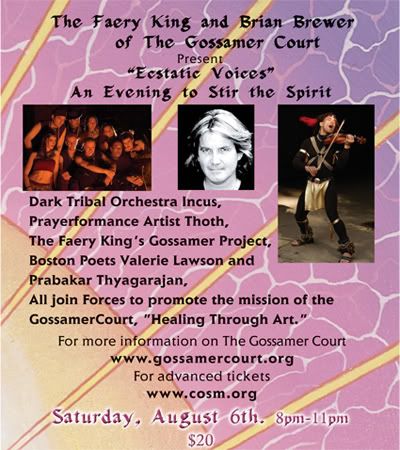 From The Cincinnati Press

"The opener for Incus' shows is local poet Yust Lundberg, a.k.a. "The Faery King," "His Divine Y-Ness" and"The Mystical, Magickal, Yust II Oberon." All of those titles are a lot to live up to, and Yust doesn't disappoint. His poems on a variety of subjects are compelling, and his stage presence is magnetic. Yust has been likened to Jim Morrison of The Doors on stage. His shamanistic, raw-yet-refined appeal is similar to Morrison's but more genuinely spiritual. It's a fine weekend to fall under the spell of these two acts. Gather 'round their fire." ("Dale Johnson")

The second act will begin with Prayerfromance Artist, THOTH http://www.skthoth.com

"Subject of an Academy Award winning film and one of the most talented
and unique artists in the world, Thoth uses a four octave plus vocal range, dance, theater, comedy, stillness, philosophy, language deconstruction, aerobics,... all accompanied by foot percussion and violin to transmit legends of the Festad - a mythologial land he has invented, while mesmerizing audiences with his prodigious energy."

The second act close with Incus, the dark tribal orchestra and a chant led by Jason Cohen, band founder and lead musician and singer.

Incus, from Boston, MA are an 8 piece tribal, dynamic and mesmerizing World Music band. Their music is evocative, with mixed vocals, various drums and percussion, cello, violin, keyboards and accordion. Their stage show includes beautiful dancing and impassioned performance with a fiery sound. Dark and light, struggle and love, the divine feminine and masculine energies are all honored in their magical workings. "Forestdance" the travelling sacred dynamic fire circle gatherings that they produce, cultivate a large part of the energetic subtleties and the medicine that can be felt and experienced within their music. See for yourself why Incus has been tagged "Music for Fire Worshippers". http://www.incus.net, http://www.Forestdance.net.

In helping CoSM, you are doing great service to seeker and art lover alike. You are also making the Faery King very happy, as CoSM is the center of his spiritual world.

Please support the work and events of CoSM.
http://www.cosm.org